About Diamond-Drives
Diamond-Drives by Timken, a leading manufacturer of power transmission products, offers a broad line of superior quality precision roller chain, engineered class chain and augers engineered to push the world's toughest applications further.
Committed to High-Performance Drive Solutions
By bringing together Diamond®️ and Drives®️ products, we now provide the most comprehensive line of quality chain products and cutting-edge solutions with a combined nearly 200 years of advanced engineering knowledge and experience. Diamond-Drives is committed to manufacturing world-class products, outstanding engineering, manufacturing support and total customer service. At our manufacturing facilities in Fulton, Illinois and Clinton, Iowa, we utilize the highest quality materials, technologies, equipment and craftsmanship to produce high-quality chain products.
The Timken Company Mission, Vision & Values
Diamond-Drives embraces the Timken mission, vision and core values which guide us each day and drive our future. Such clarity keeps us successfully working together to make the world more productive and deliver value to our stakeholders.
Our Mission
To use our knowledge to make the world's industries work better.
Our Vision
To be the global leader in bearings and mechanical power transmission, continually improving performance, reliability, and efficiency.
Our Values
Ethics & Integrity, Quality, Teamwork, Excellence
Our Guiding Principles
We passionately believe in treating people with respect; the power of innovation; growing as individuals and as a company; making the world a better place through our products and actions; and continuous improvement.
Engineering & Quality
From corrosive environments to heavy shock loads, we engineer the optimum chain for your application to help increase uptime and reduce maintenance costs. All high-quality must start with the right material selection and precise heat treatment for optimal performance.
Our entire range of American National Standards Institute (ANSI) standard precision roller chain, specialty chain, and attachment chain meet or exceed ANSI standard B29.1 and British Standard ISO 606:2015. Conveyor series chain meet ANSI standard B29.3. We also offer high strength chain that meet the new ANSI B29.28 standard. Drives' engineered class chain is manufactured utilizing state-of-the-art equipment to a ensure a high-quality, high-value product.
Frequently Asked Questions
When were Diamond and Drives acquired by Timken?
Drives was acquired in 2011, while Diamond was acquired in 2019. Since 2019, we have been focused on combining operations into a central location in Fulton, Illinois and Clinton, Iowa.
Where are Diamond® and Drives® products made?
Most Diamond and Drives products are made at our manufacturing plants located in Fulton, Illinois and Clinton, Iowa. The Fulton facility focuses on making roller chain, while the Clinton facility specializes in augers.
Where can I purchase Diamond® or Drives® products?
Our products are sold to original equipment manufacturers (OEMs) or through distributors. You can use our Distributor Locator to find an authorized distributor near you.
Our Company's Roots – And Future
Diamond Chain Company got its start in 1890 as Indianapolis Chain & Stamping Company, manufacturing bicycle chain in Indianapolis, Indiana. The company's founders selected the diamond as their trademark because it symbolized perfection. After being bought by plant manager L. M. Wainwright, the company was renamed Diamond Chain & Manufacturing Company. Diamond Chain's products were integral in many historical breakthroughs, including the Wright Brothers' first flying machine, Henry Ford's first automobile, and numerous motorsport champion vehicles. Today, Diamond® high-performance roller chain is relied on by global power transmission markets. The company name continues to represent strength, durability, and serves as a constant reminder of the company's commitment to producing the best quality products possible.
Drives, Inc. began operations in December 1959 in Fulton, Illinois, manufacturing steel detachable chain for driving mechanisms including elevators, spreaders, and other farm machinery. Throughout the years, the company expanded its capabilities as well as the footprint of its manufacturing plant and corporate offices to better serve its customers in the agriculture, oil and gas, mining, construction and other industries. To support the company's growth in the auger industry, Drives also added new processes for mounting raw flighting onto shafts for agricultural OEMs, began mounting sectionals for heavier duty augers and made other key improvements. Over six decades later, Drives® chain and auger products are still trusted to deliver high performance for the world's toughest applications.
Diamond and Drives are now together as part of The Timken Company's growing portfolio of engineered bearings and industrial motion products. Diamond-Drives employs more than 660 team members with a combined manufacturing space of 483,000 square feet in Fulton, Illinois and Clinton, Iowa.
Historic Events
Important stories from Diamond-Drives history.
Drives Variable Speed Machine Used in 1969 Flood
As water rises due to the springtime snow melting, flooding is always a concern in river towns like Fulton, Illinois and Clinton, Iowa – where our facilities are located. Going down memory lane, we remember a time where Drives used their variable speed machine to fill 4,300 sandbags per hour.
Sand was dumped from trucks onto a conveyor and dropped into a hopper. Bags were fitted under the hopper tube and held in place by spring clips. After the bags were filled, they were put onto another conveyor and sent out to waiting trucks. The trucks then carried the bags to emergency sites along the river.
Henry Ford Purchases Bicycle Chain from Diamond in 1896
Diamond first got its start manufacturing and selling bicycle chain in 1896, as Indianapolis Chain and Stamping Company.
In a receipt dated May 28, 1896, Henry Ford purchased ten feet of bicycle chain from Indianapolis Chain and Stamping Co.
The Founding of Indianapolis Motor Speedway in 1909
Arthur Newby was the president of Indianapolis Chain and Stamping Company, which later became Diamond Chain. He was also instrumental in founding the Indianapolis Motor Speedway, along with James Allison, Carl Fisher and Frank Wheeler.
The Indianapolis Motor Speedway hosts the Indy 500, a 500-mile annual automobile race located in Speedway, Indiana. The first race took place on August 19, 1909, and there continues to be an Indy 500 race at the track every year.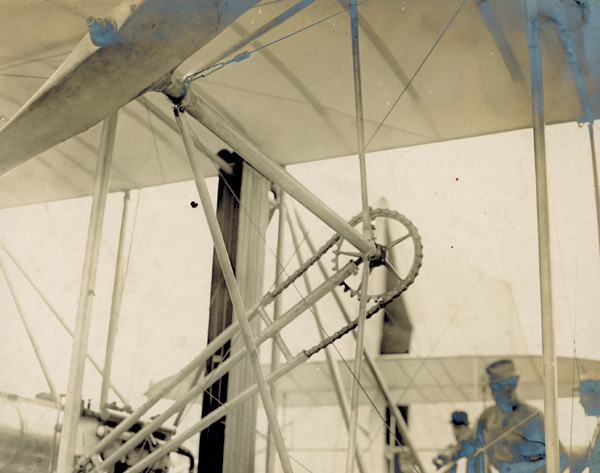 Diamond Chain Used by the Wright Brothers in 1919
Not many know that Diamond® chain was once used by the Wright brothers.
In a letter dated May 24, 1919, Orville Wright wrote to Diamond's General Manager, L.M. Wainwright, "I have never forgotten the interest you took and the help you gave us when we were building our first flying machine."
Conveyor Equipment Manufacturers Association (CEMA)
Power Transmission Distributors Association (PTDA)
Mechanical Power Transmission Association (MPTA)
Farm Equipment Manufacturers Association
European Transmission Distributors Association (EPTDA)